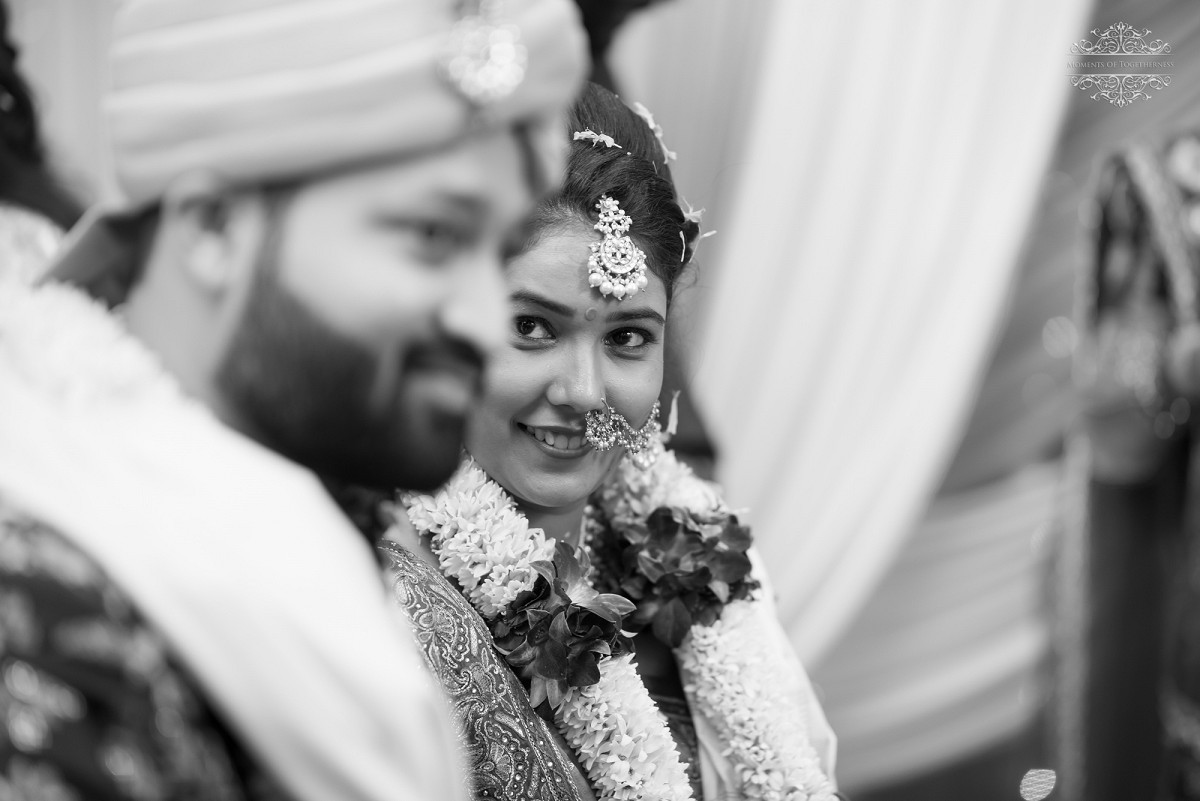 How and When did you guys meet ? 
We were introduced to each other by one of our relatives and no one took the first step for so long.. After around six months, I took T's number thinking "what's the harm in meeting once?" I texted him asking if he would be free over the weekend and we managed to fix a day and time to meet each other! Wondering what happened next? Read our story of the first date!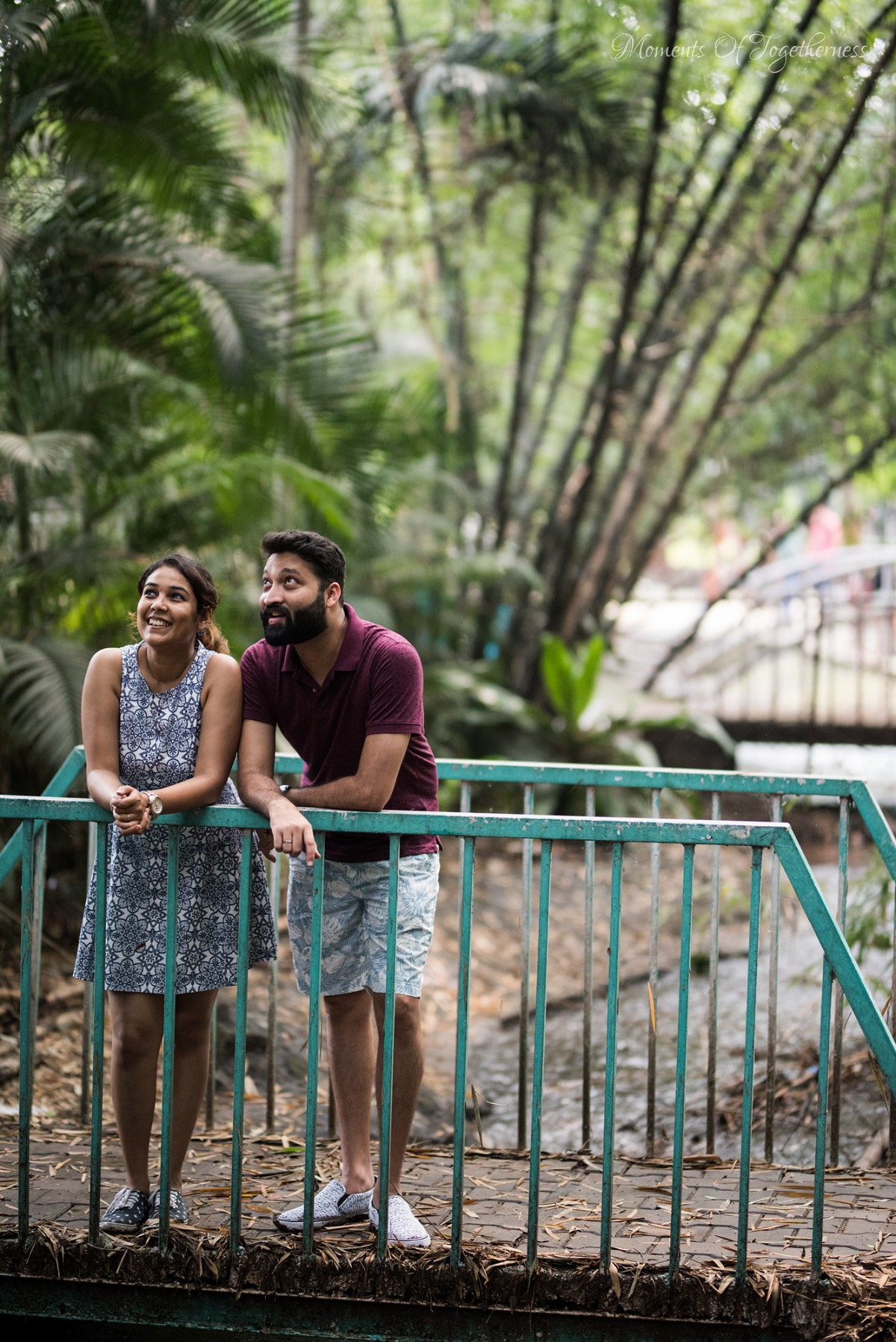 Tell us about your first date?
 She reached before time and he was late. They were meeting in the noon. She skipped her breakfast for an early lunch and he was stuffed, expecting a light soiree. They met. He was unexpectedly clean shaven. She was unexpectedly tall. Found seats in a cafe, throwing awkward glances at each other, not knowing what to talk about. Food was ordered but he declined. He knew he was at fault and that she was cross. Small talk followed by awkward silence. Nervous glances. She: "I haven't done this before" she said. He: "Well, me neither". They smiled. She: "So, what should we talk about?" He: "Umm. You tell me. The usual stuff?" She: "Like?" He: "Ladki khana kaisa banati hai? Ladka kitna kamata hai?" She: "Haha. Yes. But being compatible is more important right?" He: "True." "So? Do you like classical music?" she asked. He almost made a face. "Umm..Instrumental" was a safe bet. "Movies? In theatres? Musicals?". He made a face this time. "Nope. No musicals." Silence. She: "So do you want to work for someone else your whole life?" He "I don't know? What about you?" She: "I'll retire by 40. Will be my own boss". He: "Sure. Best of luck." They were opposites. Nothing seemed to be in common. She kept popping topics. He kept confirming the differences. Still, for some reason the nervousness had faded and there was a sense of ease each felt with the other. So, they kept talking. Mulling over their compatibility quotient. For days and later weeks, until something felt sure. Something that made them stick with each other. Something that kept them going against all odds. Something that made them fight for each other. So, now, after more than a year, he is still late for the early dinner. But, she somehow manages to keep him waiting. And so, despite their compatibility quotient, they still keep going together.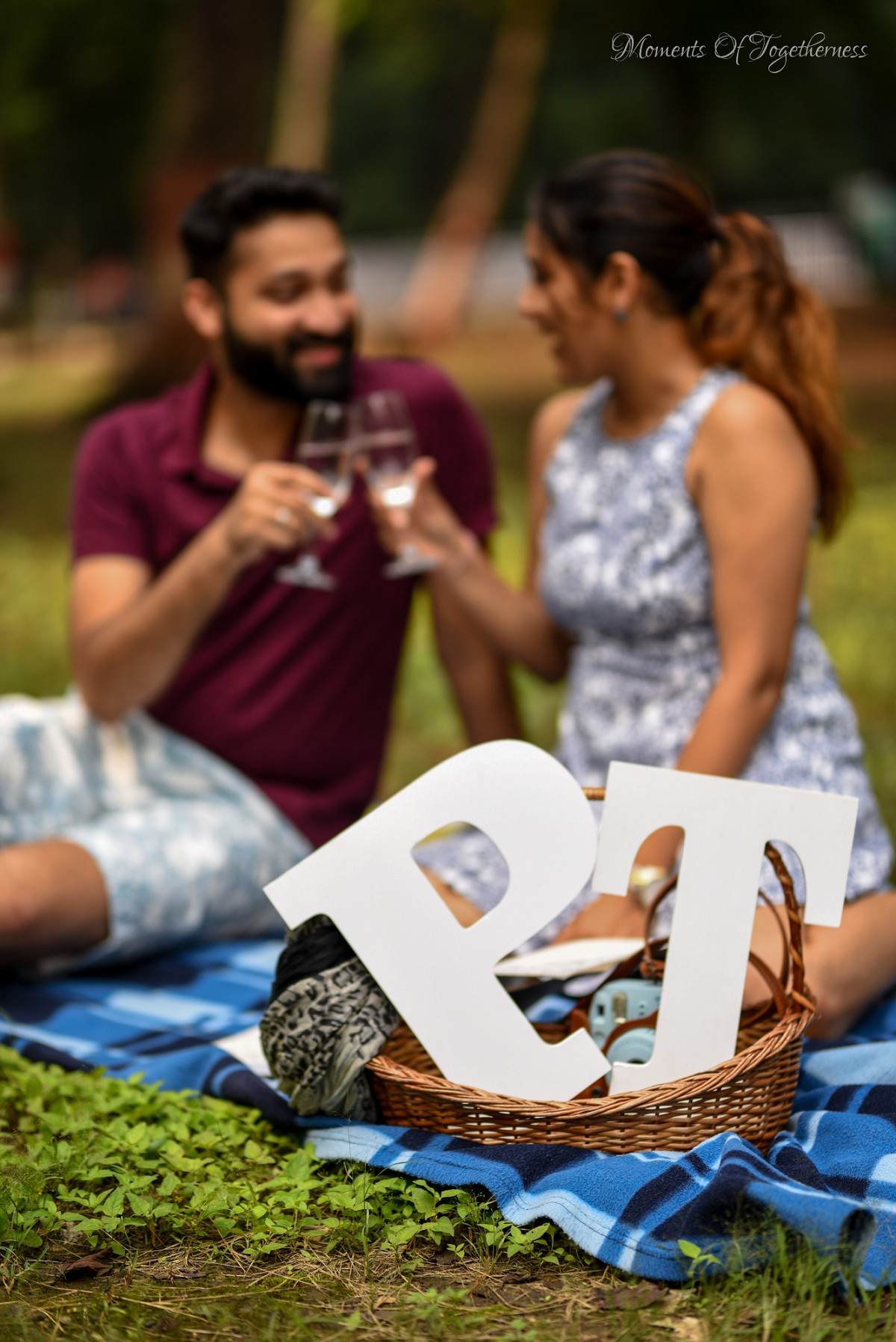 How did you plan such a great wedding?
Our wedding was held on 22nd January of 2018. And planning was so much difficult.! Both of us are so different and so are our families. We tried hard to convince each other to do things the way we liked, but eventually we left it to our parents to plan our wedding!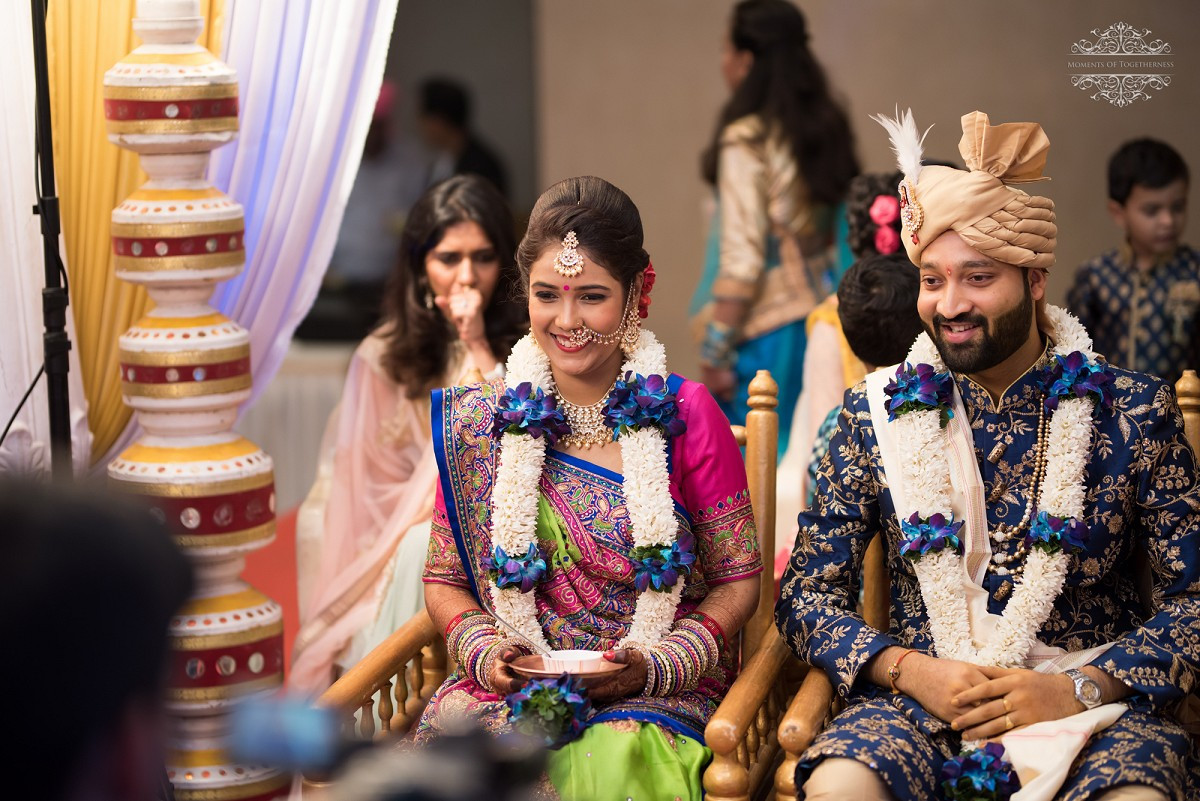 Why did you pick the venues that you chose?
We both were looking for a venue with more capacity of people and something that was closer to Trupal's home and of course the venue had to have accomodation for me and my family! When we started looking for venues, either they were too small or they were very far and out of our budget. Later we came across the Haryana Bhawan and it was perfect for us with our budget and location. So we ended up booking the hall.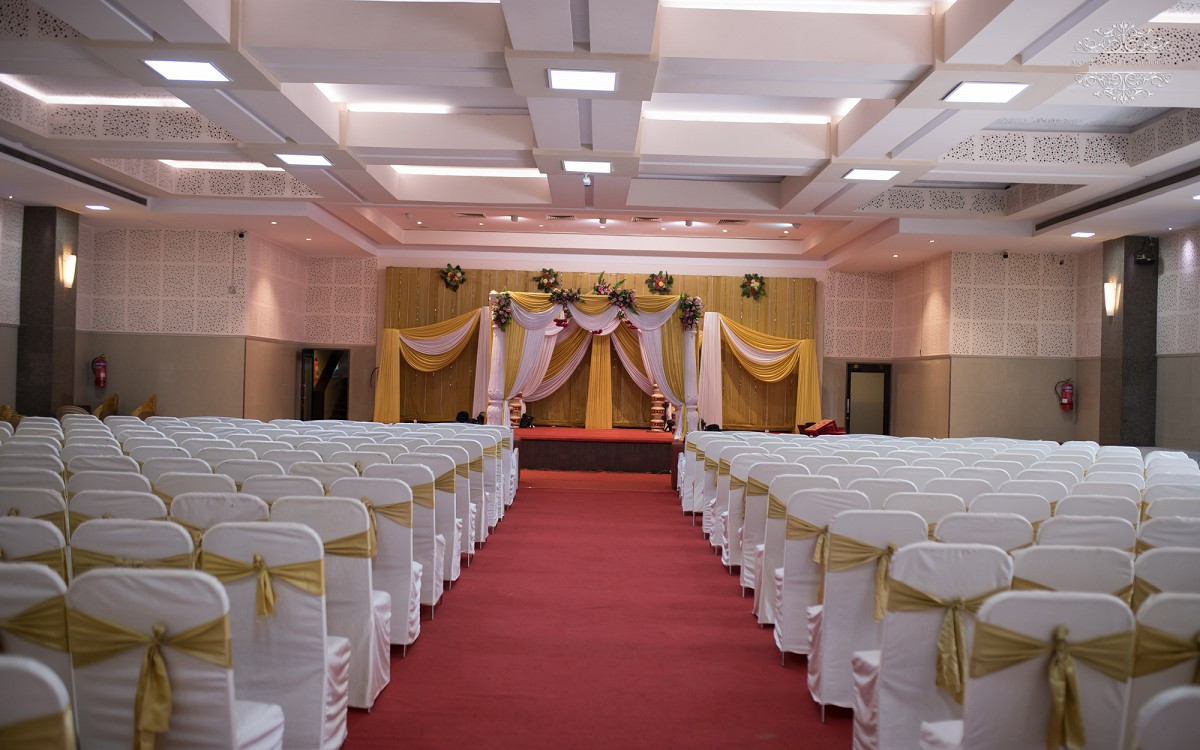 What inspired your wedding décor? Did you have a theme in mind?
Well we are not much in to theme based wedding. But we definitely did not want the very bright colors to be used for the decoration. Mainly we got our outfits first and then we picked up the light basic color for the décor so that the bride and groom are highlighted and not the décor in the background.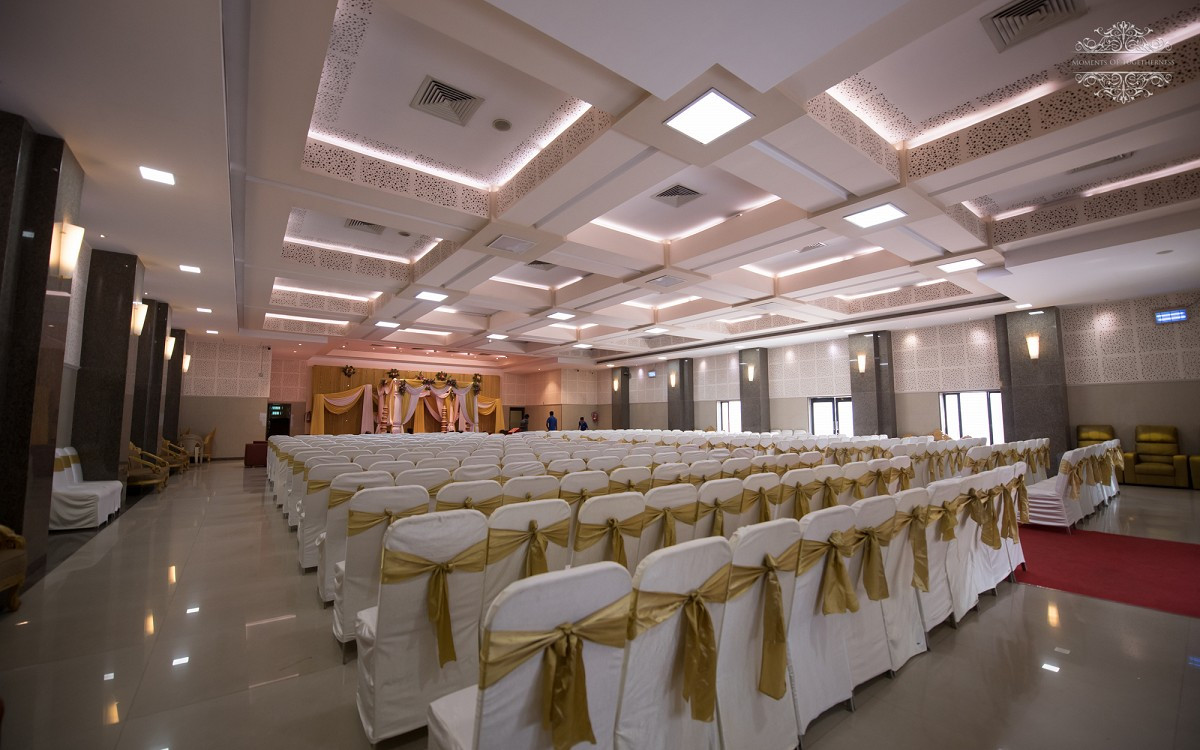 What colors did you choose and how did you decide?
So the first thing that was bought was my wedding attire, the Saree. Once we had that in our hands, we picked a contrast color that was used in the saree but not so much - Blue for Trupal's wedding outfit. Once we knew these two, we decided to go with white and golden fabric for décor along with some flower décor.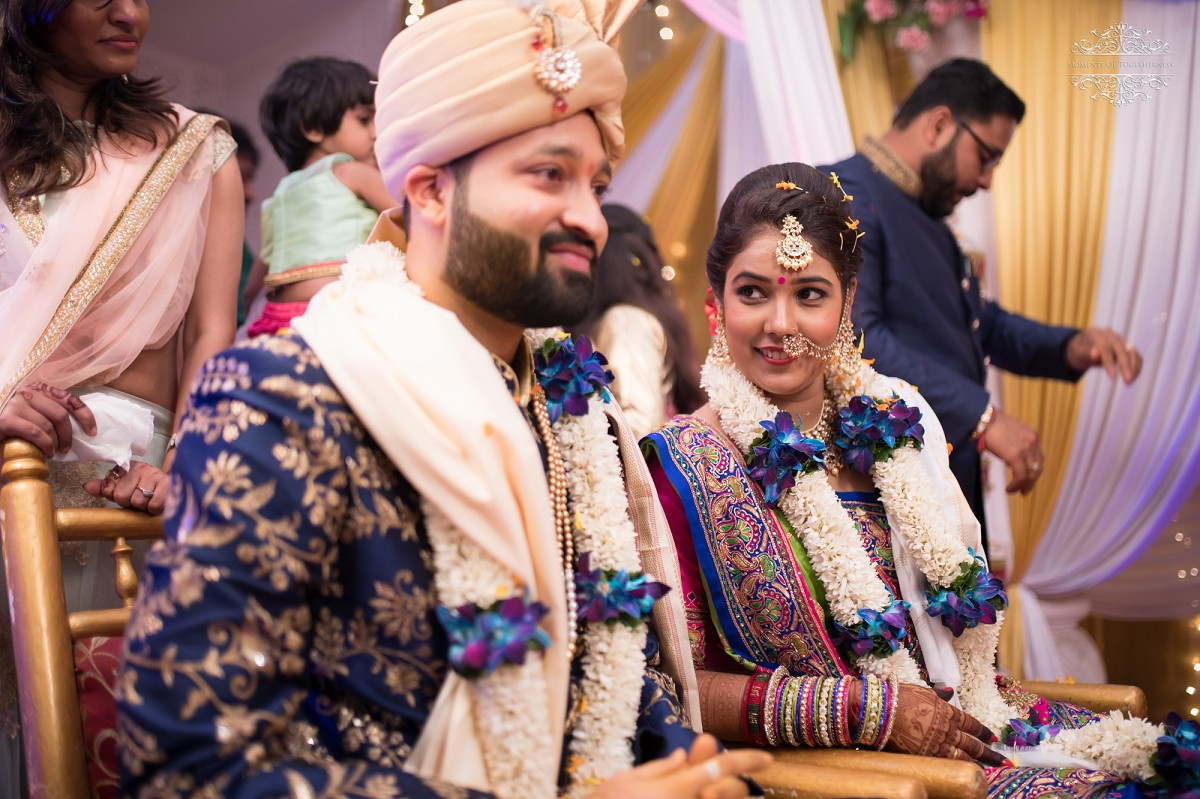 Your favorite part of the wedding ?
I can't really pick one thing to be my favorite from the wedding. But I believe if I have to pick one thing, it was getting these fabulous memories captured during the wedding.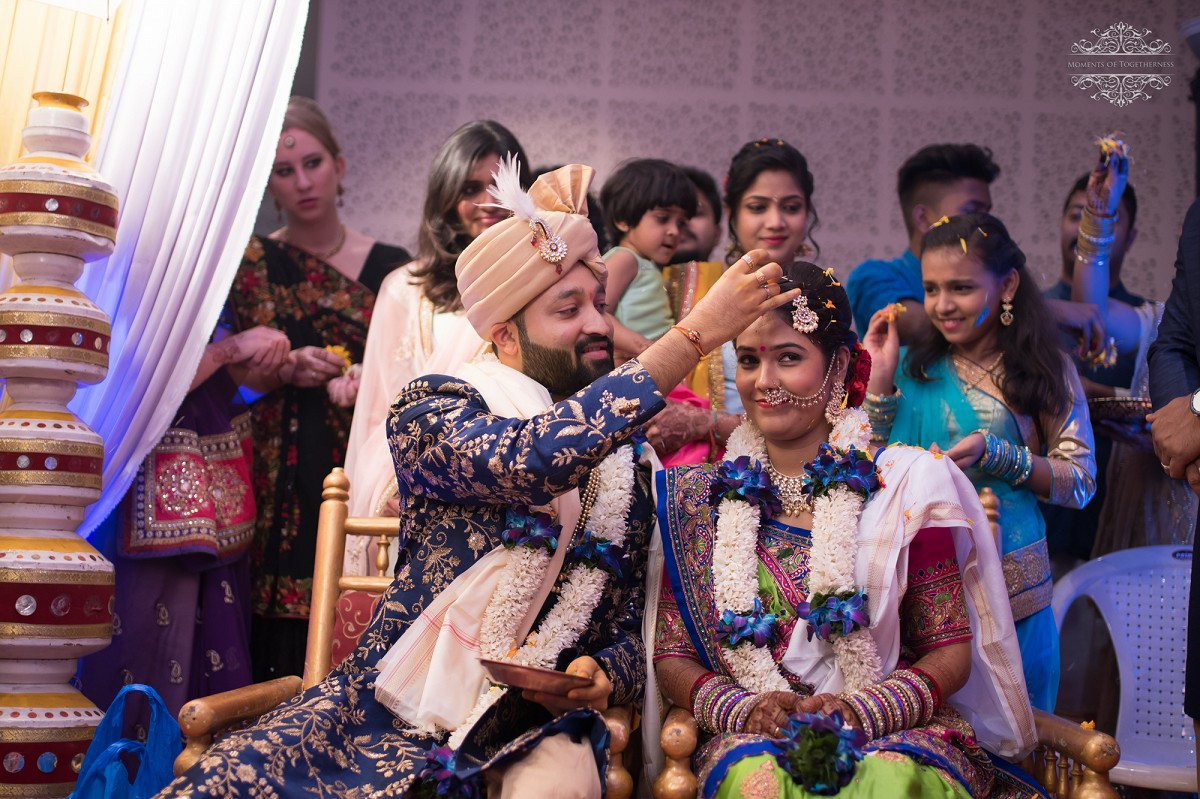 What was the biggest challenge you faced in planning your wedding?
Getting everyone to agree on something was the biggest challenge ever! In fact even after almost around 500 days of the wedding if we want both of us to agree on something, it needs a miracle !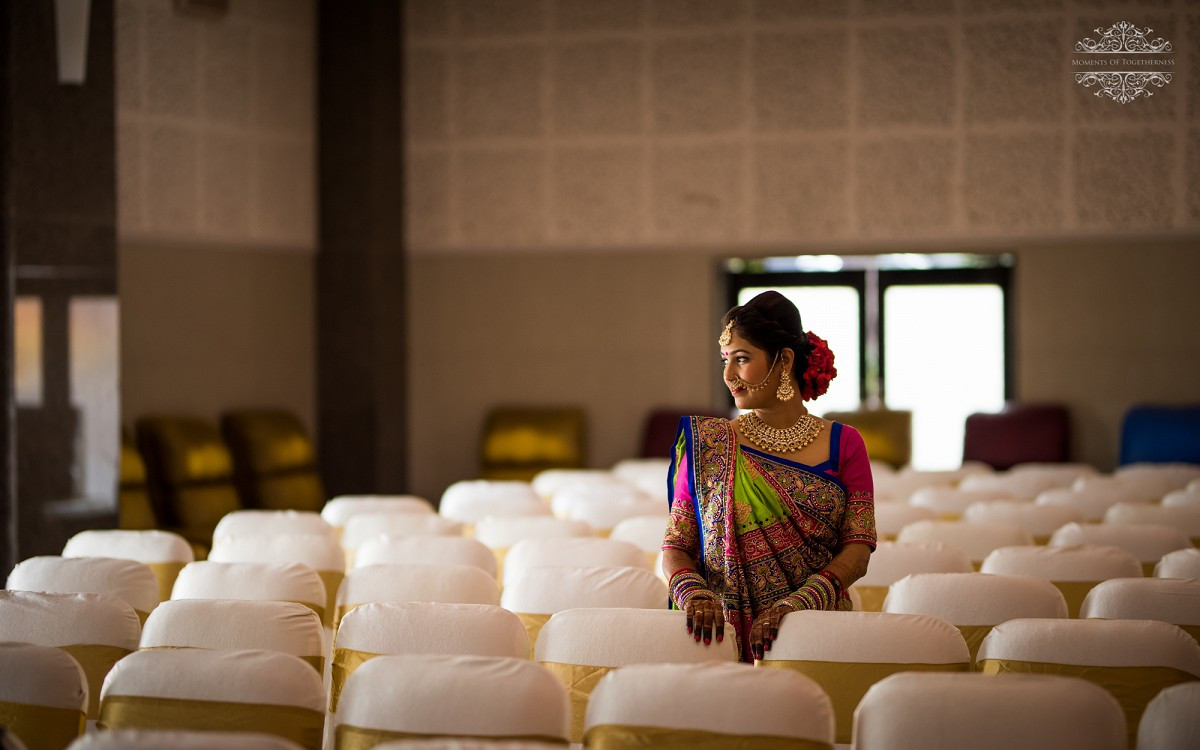 How did you select your photographer ?
So in 2011 March I received a message on Facebook from a stranger who was asking me to checkout his photography page and like the page. So i did. And guess what? I was in love with his works! Tried to get him on board for my sister's wedding in december 2013 but for some or the other issues, that didn't happen. And finally in 2018, I got him on board to capture my wedding. And everyone is so so so happy with the photographs!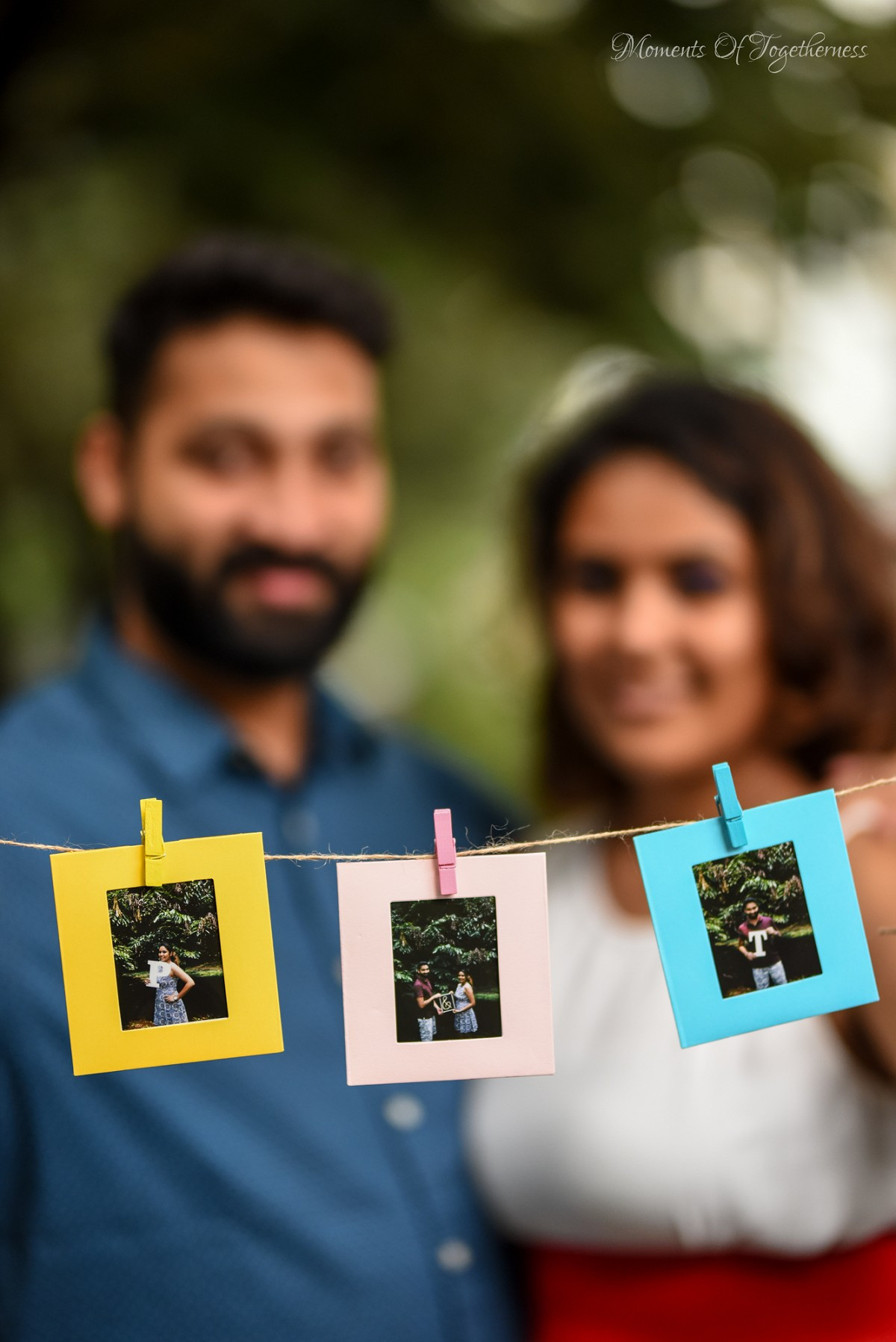 Tell us something about the people who helped you look so good in your wedding ?
My wedding attire was bought from Asopalav store at Surat. The jewelry was bought from Ambica Bangles at Ahmedabad I was looking so stunning because of Tanvi from Tanvi's Salon. Reception outfit was bought from Aishwarya at Santacruz.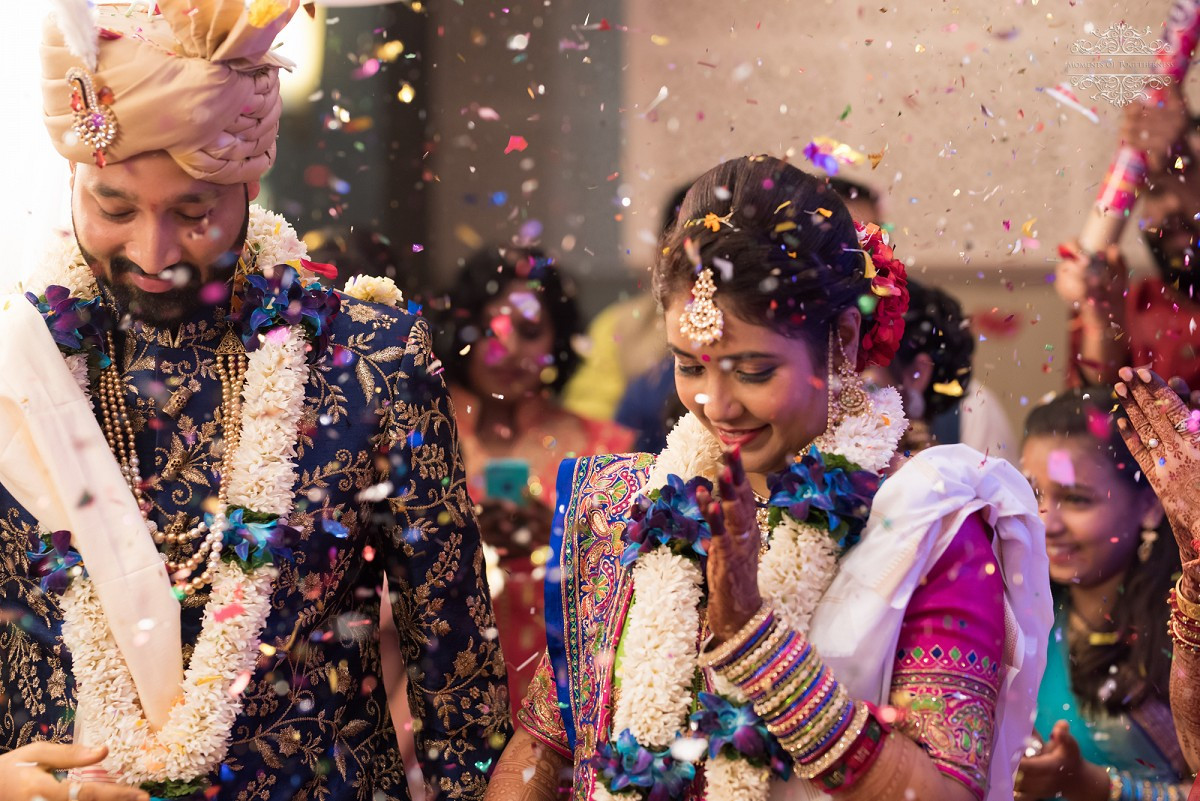 What's one piece of advice you would give to other couples planning their own wedding?

I would tell them not to be very stubborn about the ideas of how the wedding and other rituals are going to happen. Just go with the flow. Try and listen to your spouce to be and you may understand why they want to do things the way they want to do! And enjoy every single second of the planning and the wedding! You are making some serious lifetime memories here and you sure don't wanna make the bad ones! Just enjoy!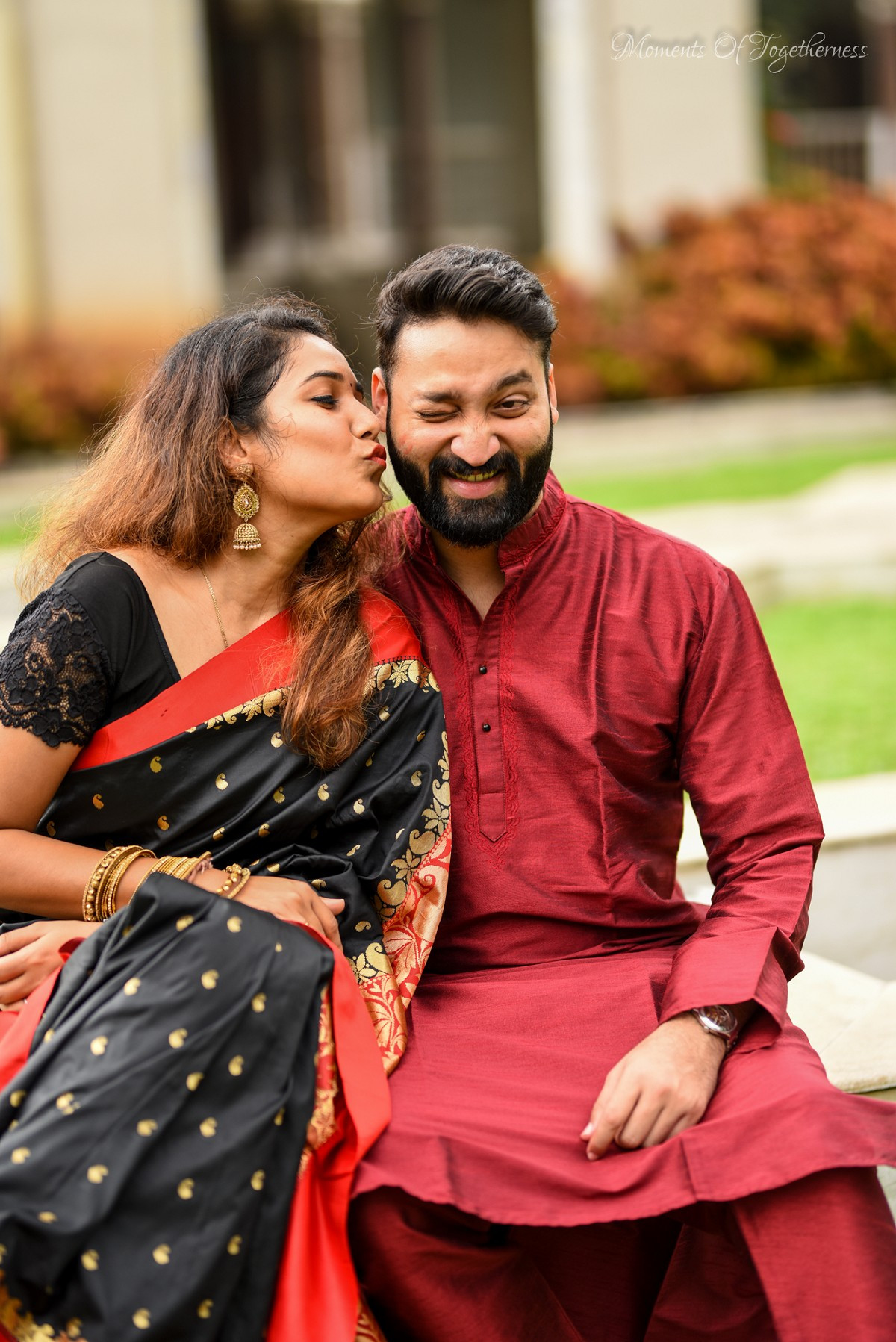 Some of the pictures clicked during her wedding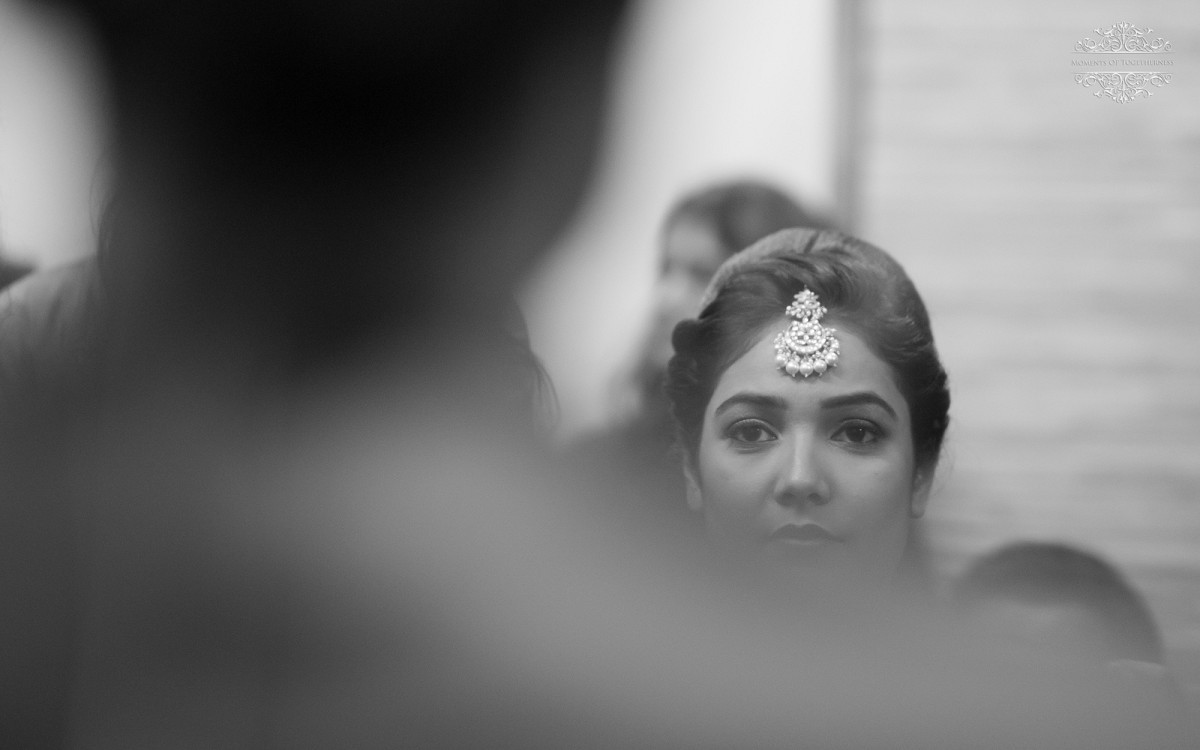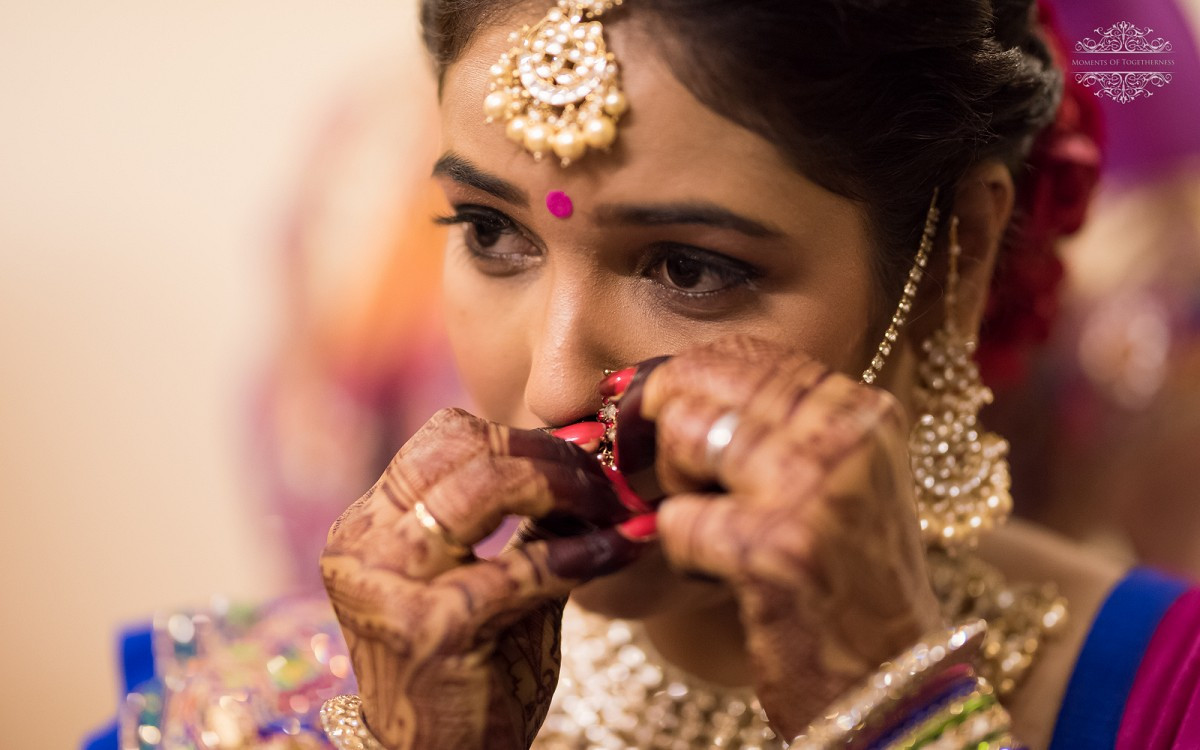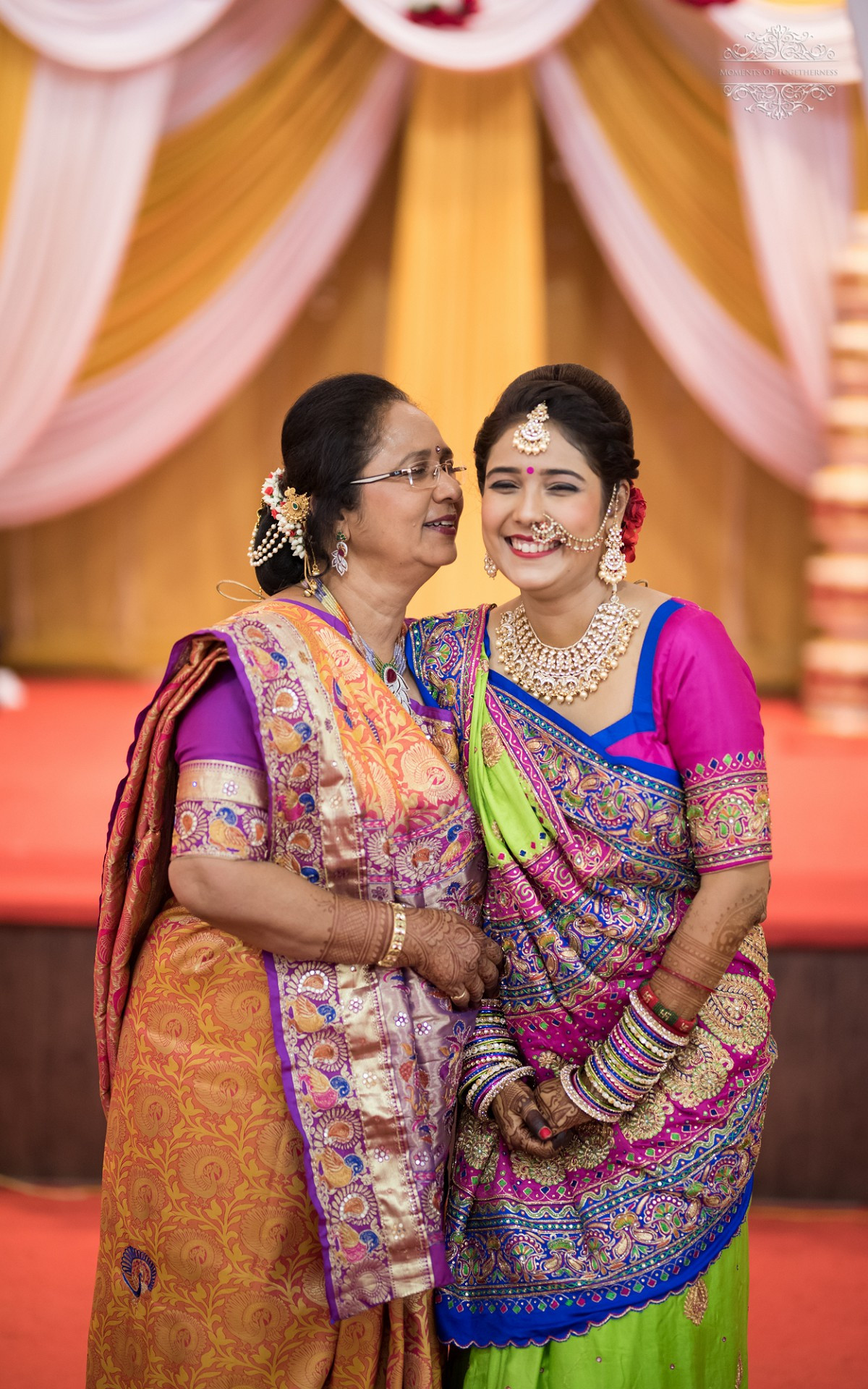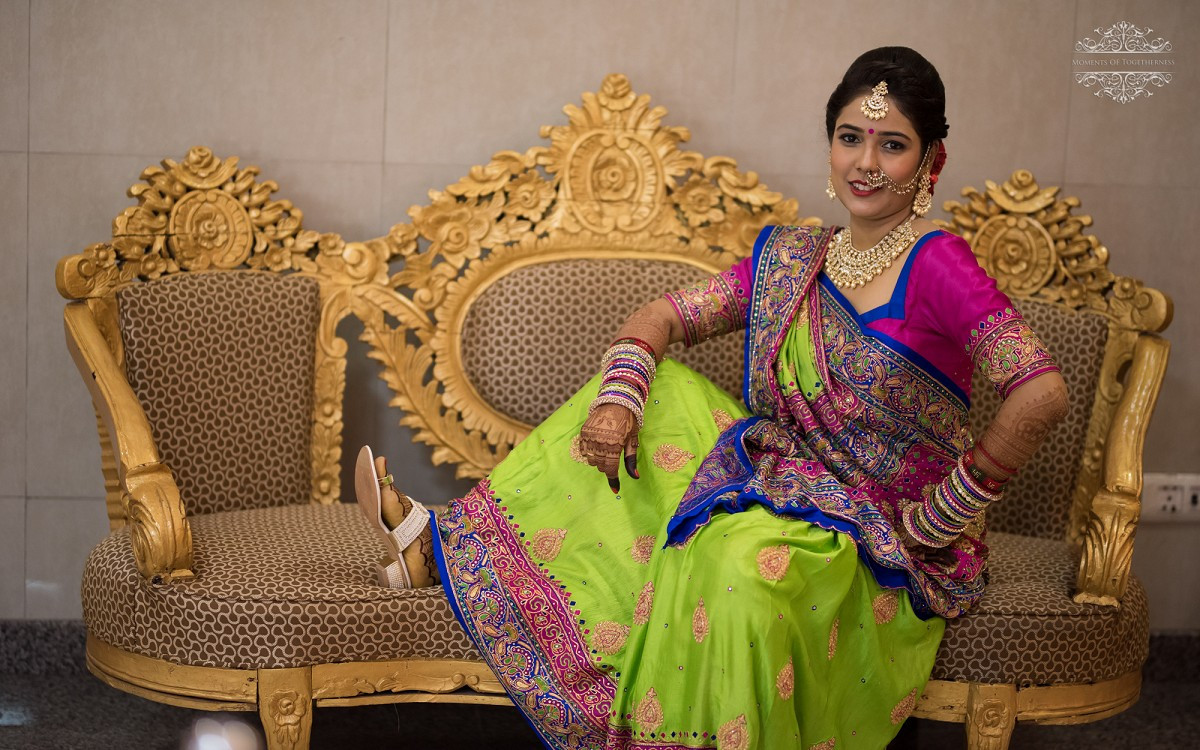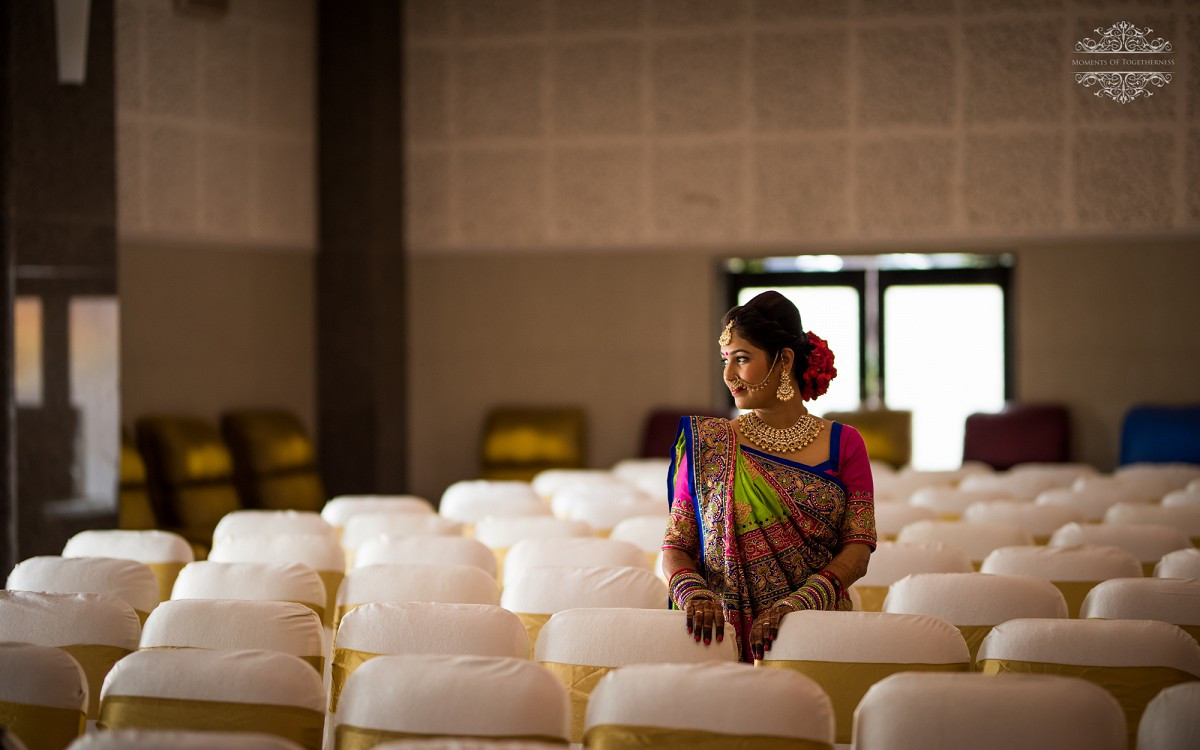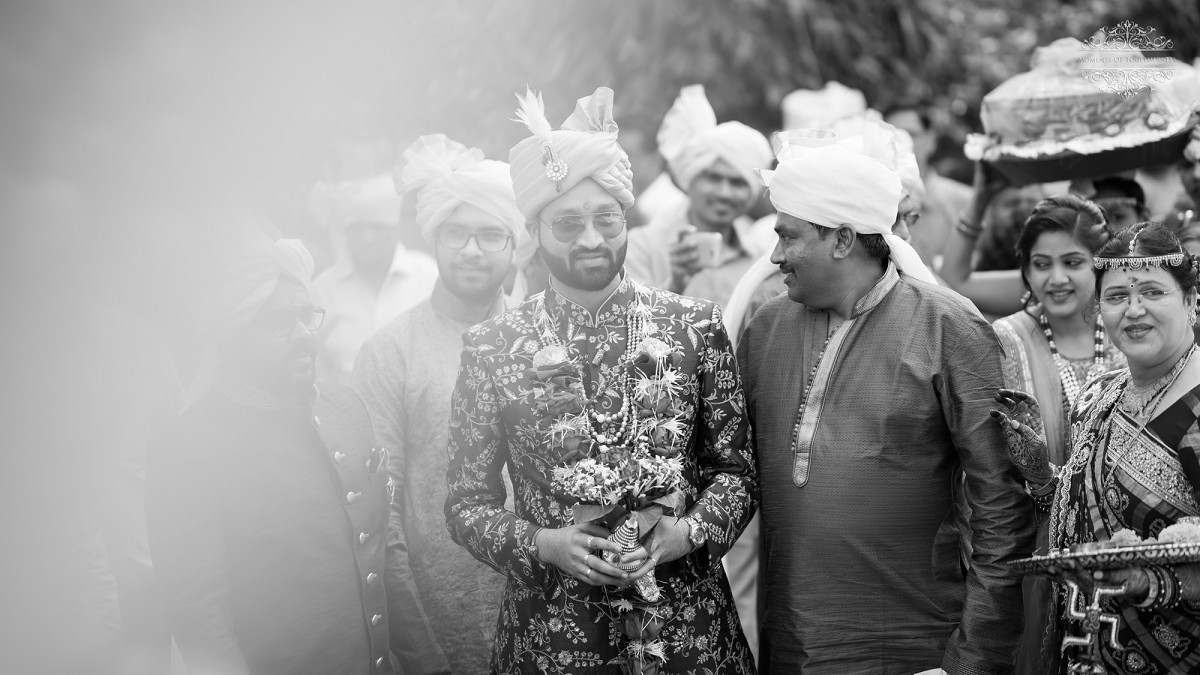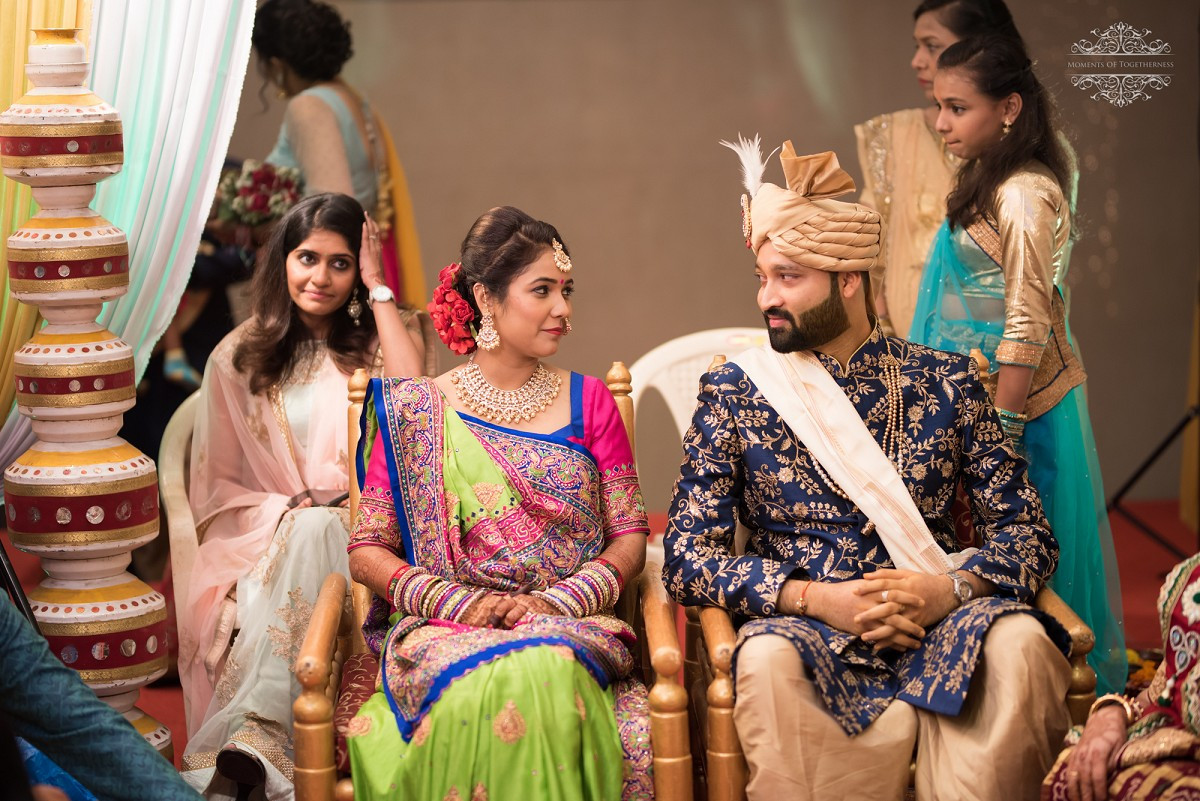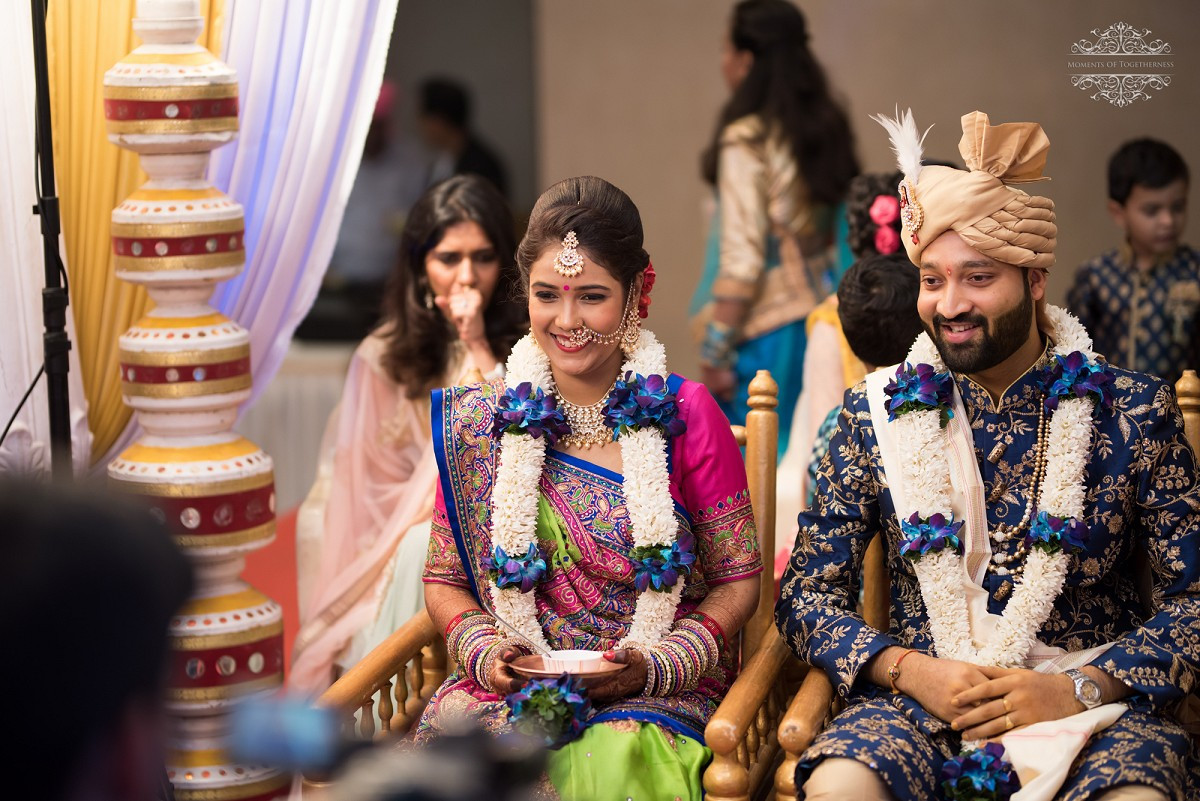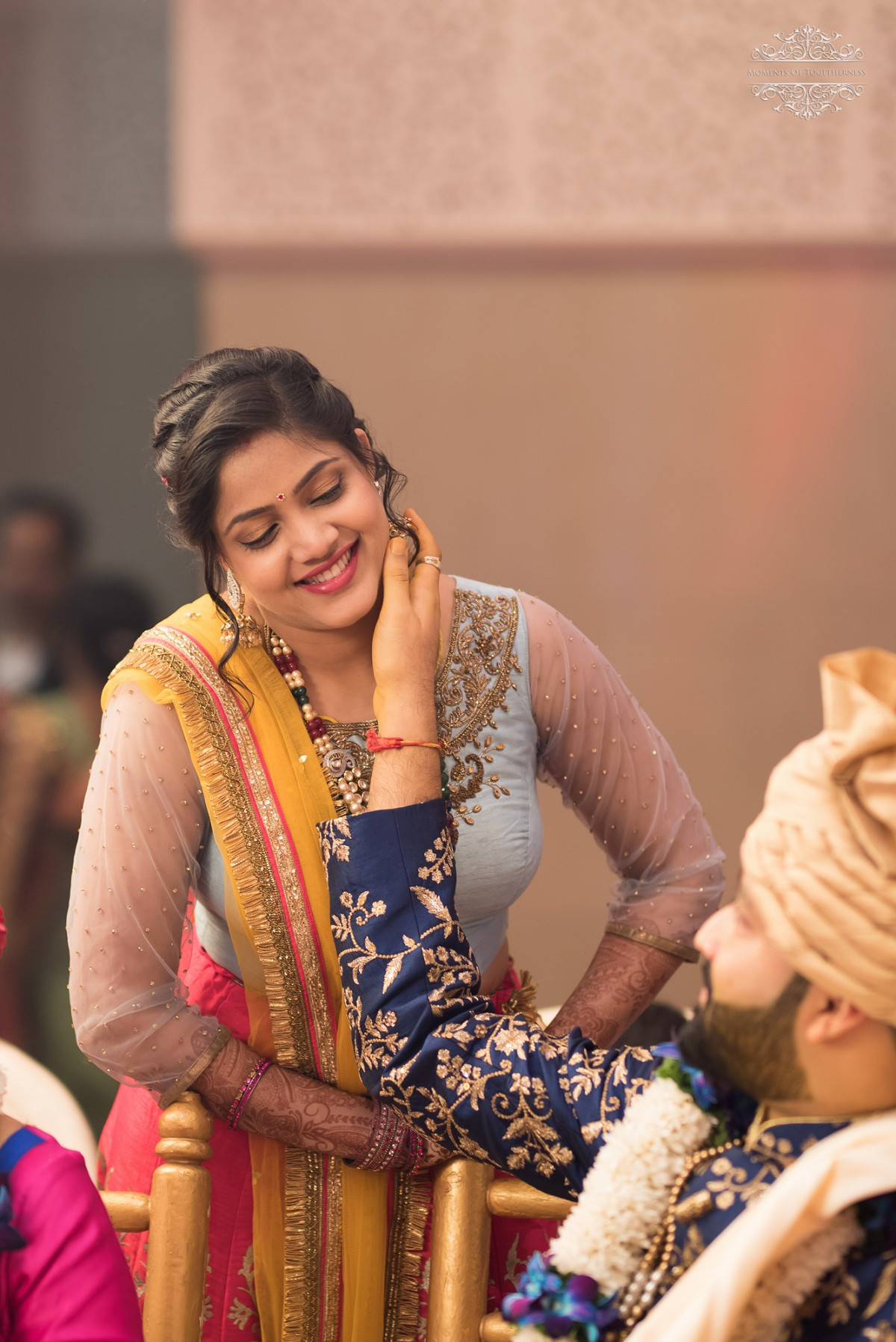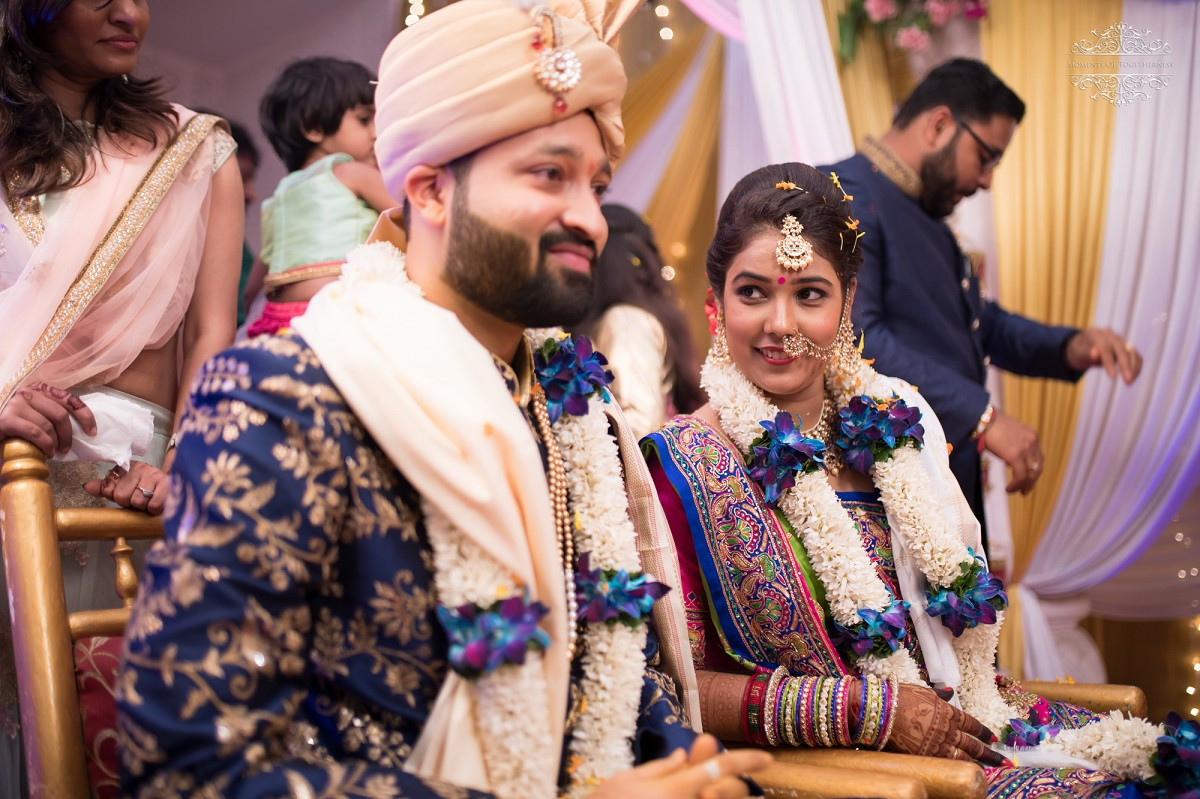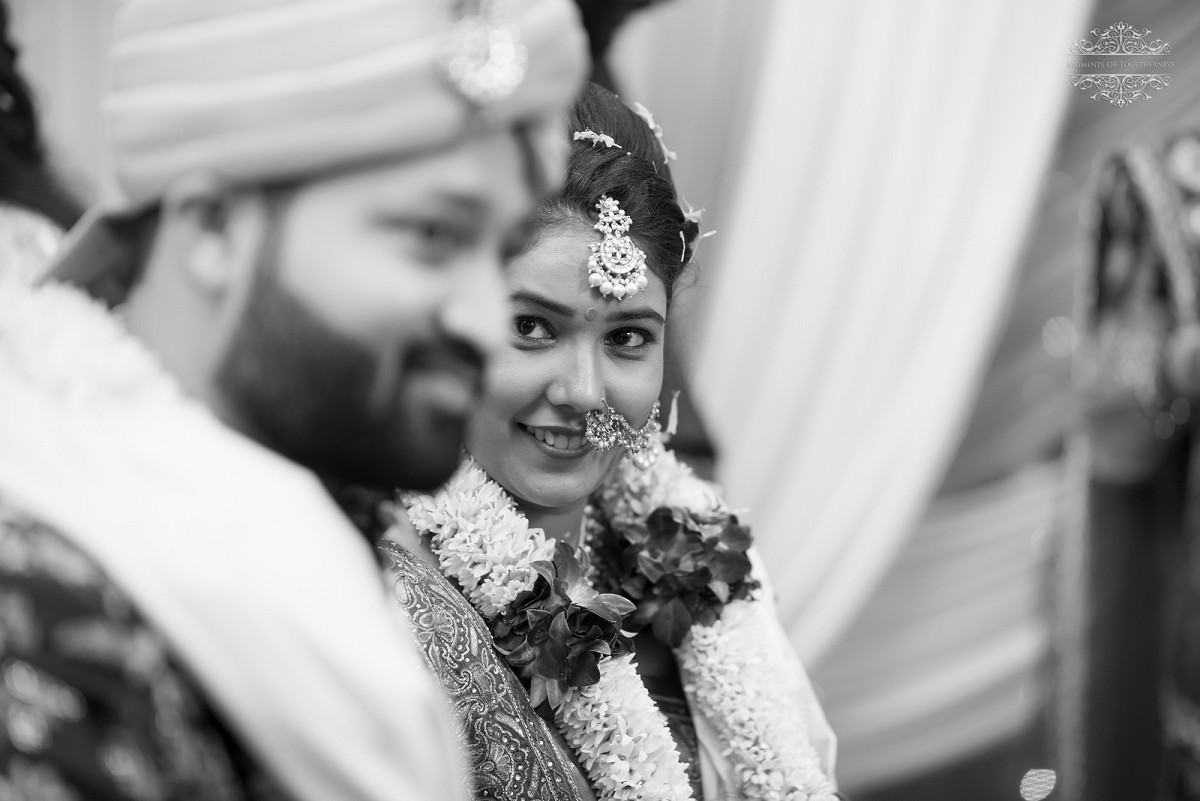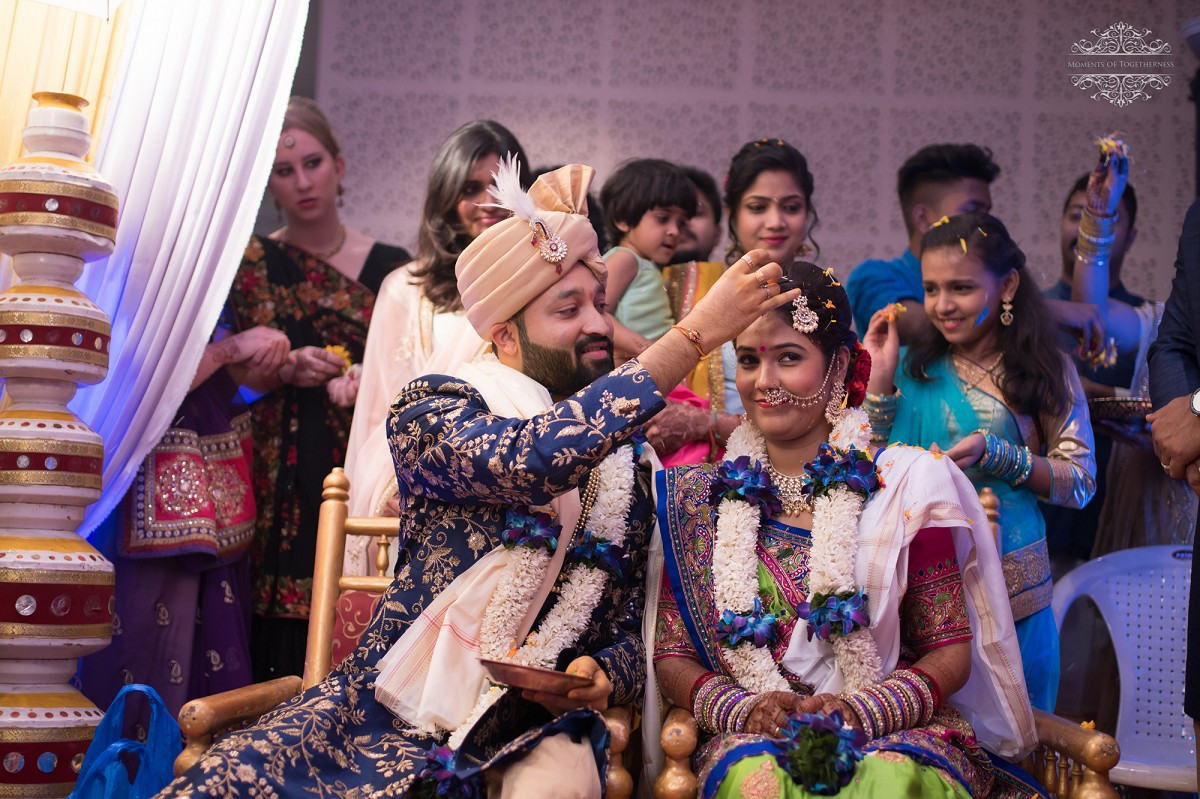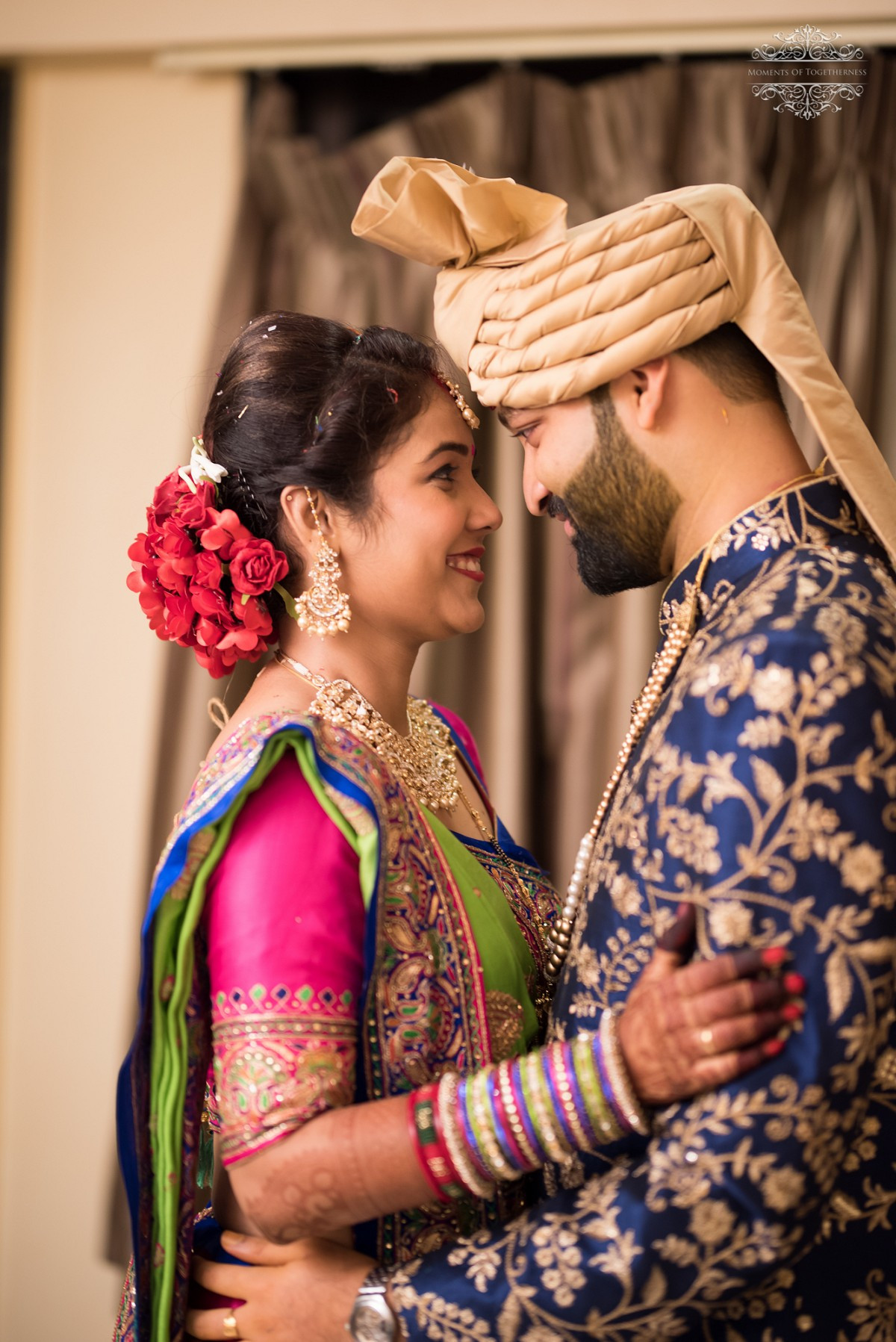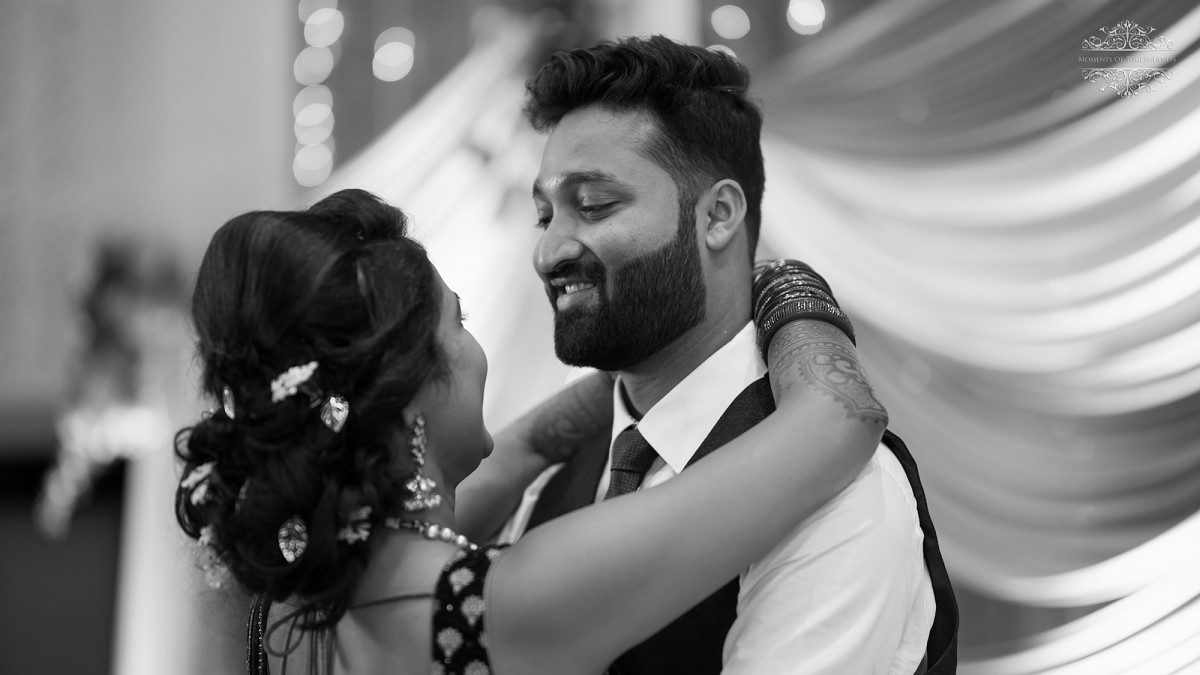 Photographer : Mazel Tov Studio
Wedding Attire : Asopalav store at Surat
Reception outfit : Aishwarya at Santacruz
Jewellery : Ambica Bangles at Ahmedabad

Makeup : Tanvi's Salon